Restaurant review: Turkish delights amid humdrum decor at Rudy's Mediterranean Grill
BY KIT WASKOM POLLARD and SPECIAL TO THE BALTIMORE SUN | APR 03, 2012 | 12:47 PM
Grilled lamb chops, served at Rudy's Mediterranean Grill & Diner in Columbia. (Kenneth K. Lam, Baltimore Sun)
Rudy's Mediterranean Grill & Diner has a pretty descriptive name, suggesting a menu filled with typical diner fare — omelets, sandwiches, and a few Greek specialties. But with roots planted on the Turkish side of the Mediterranean, Rudy's adds a new twist to traditional fare.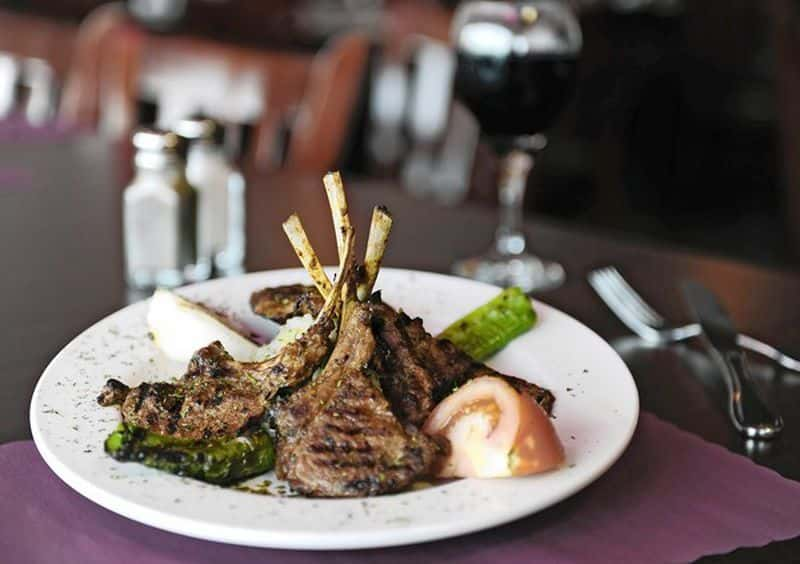 Owner Rudy Keskin moved to the U.S. in 1998, leaving his native Istanbul, where he spent summers working in family restaurants — he calls his hometown, "the most interesting city in the world."
At Rudy's, Keskin shares his passion for Istanbul via well-executed traditional Turkish recipes (Keskin himself isn't behind the stove, though his chef is also a Turkish native), and he hopes to create a welcoming environment for Columbia residents and for the region's Turkish community.
In terms of food, Rudy's is off to a good start. Atmospherically, however, it needs some work.
On a recent Thursday night, the restaurant was moderately busy, with young families interspersed with tables of young Turkish men, chatting and sipping coffee. The space was neat, clean and obviously new — Rudy's opened at the beginning of the year. But with plain beige walls, humdrum furniture, and few personal touches, the decor lacked character, save for a few scattered photos of Istanbul hinting at the kitchen's expertise.[Most read] Review: On the hunt for a great crab cake? Don't go to the Choptank. »
As soon as we arrived, Keskin greeted us enthusiastically and made us feel welcome. We settled in with our menus, which run the gamut from breakfast through dinner (Rudy's is open for all three meals), and placed our orders.
At that point, we started to wonder if Rudy's was more dinner or a more ethnic Turkish spot. The dinner menu was heavy on Turkish specialties, but the restaurant's basic decor and our waiter's efficiency at the beginning of the meal screamed "diner." Later in the evening, the service slowed considerably, to a more Mediterranean pace. But to start, our waiter was all speed.
The service, though swift, wasn't properly paced. Dinner entrees came with soup, and ours arrived before we even got our drinks. (Rudy's is applying for a liquor license and in the meantime, Keskin says diners are welcome to bring their own bottles, though we didn't see anyone who had done so.) Fortunately, after a minute of awkwardly blowing on the very hot soup, our drinks arrived.
Both soups fit the bill as appetizers — they actually teased our appetites — but they were a mixed bag, flavor-wise. The lightly creamy mushroom soup had an intriguing, earthy flavor, but the lentil soup was watery and under-seasoned.
Our appetizer, sigara boregi ($5.75), was a pleasant surprise, though the name sounded more exotic than the dish tasted. The skinny rolls of fried phyllo dough, stuffed with creamy feta mixed with parsley, were salty, warm and very tasty, with a familiar shape and crunch, like Turkish "taquitos."
As the restaurant filled up a bit, the service slowed down a lot. But the entrees were worth the wait. The moussaka ($11.95), thin slices of eggplant baked with ground beef, tomato sauce and creamy bechamel sauce, was tender with just the right amount of sauce. Keskin won't divulge the blends of spices used in the sauces and meat, but the result was a little sweet, a little spicy, decidedly Middle Eastern — and very good.
The lamb chops ($14.95) were also a hit, again thanks to a mysterious and exotic blend of spices, soaked up during more than 24 hours of marinating. Though they were more medium than medium rare, as requested, the chops were juicy and intensely flavorful.
Both meals arrived with a crisp, simple salad, lightly dressed with oil and vinegar, and a scoop of Indian rice, cooked in a pan with butter. Dinner at Rudy's would be worth it for the rice alone — the grains had a tiny bit of snap, and the rich buttery flavor was fantastic.
Though enjoyable, our entrees deviated from the menu descriptions. Both were supposed to come with an additional vegetable or French fries, which weren't offered, and the chops were billed with mushrooms and potatoes that didn't appear. While we noticed the glitches, we didn't miss any of the additional sides; the portions were just right as they were.
After entrees, we dug into a sweet, creamy bowl of rice pudding ($4.75), made in-house with Turkish rice, and sipped Turkish coffee (complimentary with dinner entrees), which provided a charming glimpse into Keskin's home country. Dainty cups and saucers, covered in a colorful, intricate pattern, were filled with thick coffee made in a cezve, the pot traditionally used to make traditional coffee in Turkey.
Unfortunately, though we lingered, our coffee disappeared long before the bill made it to our table, making us wonder what happened to the quick service we received upon arrival.
Despite uneven service, and the semi-charmless atmosphere, the exotic flavors and foreign spices of the food at Rudy's transported us to the Istanbul streets of Keskin's youth. With each bite of lamb and sip of coffee, we understood why he wants to share the flavors of his homeland with the people of his adopted country.